"We do not need magic to change the world, we carry all the power we need inside ourselves already: we have the power to imagine better."
— JK Rowling
A Bottle Spell is a small bottle containing items such as herbs, salt, stones, beads, feathers or other items which may be relevant to the particular spell.  I often work with the use of glitter — it has no direct magical representation, but I see it as eye-catching and a way to remind oneself to keep coming back and reciting the spell.  These bottles were crafted with intention for the eventual owner and each contains a specific Wish Paper with one of the below chosen spells.   Another way to think of 'bottle spells' would be 'a bottle of intention' — in other words, these work much like Mindfulness beads to bring our attention to our desire; our focus on to what we see as our current greatest need.
How to use a Bottle Spell:
DO NOT open the bottle. Each bottle has been carefully packed with your chosen spell. DO shake the bottle 5-10 times as you recite the incantation (at least three times). This causes the bottle to be "charged" with your intention.
Current Bottle Spells available:
Abate Worry: "Into this vessel secured up tight I place my anxieties that they might
Find their right level within my life."
Alleviate Debt: "My life and accounts shall soon be in balance."
Bring Good Luck: "To God and Goddess I do pray Guide me through another day
Let good fortune come my way Good luck hither now I say"
Enhance Inspiration: "Creativity Come to me In whispers and dreams And visions that gleam."
Entice Love: "Herbs of the earth herbs of lust bring me passion in you I trust"
Increase Cash Flow: "Toward this wish, the money grows by leaps and bounds – it overflows. Coins that jingle, coins that shine Come to me now – you are mine."
Protection for Your Home: "Oh spirit of salt, purify my home and bring in strength and stability."
Protection from an Enemy: "I neutralize the power of my adversary to do me any harm. I ask that this be correct and for the good of all. So mote it be."
As a note: Potions and Bottle Spells have been around since ancient times, and have often seeped into popular culture without us even realizing!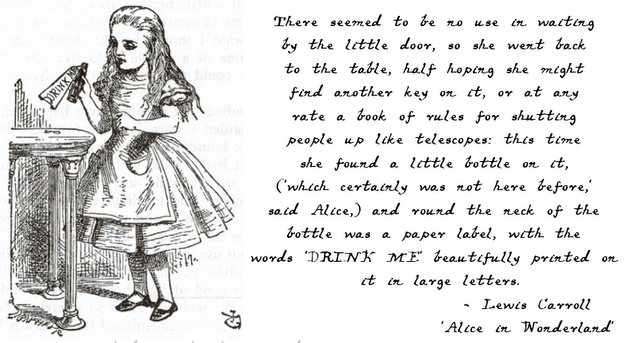 Related posts: