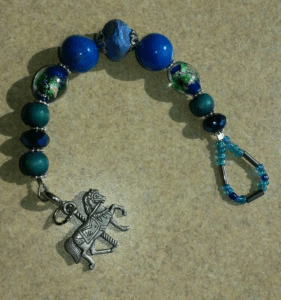 Are Mindfulness beads for everyone?
Yes!
Even my 9y/o daughter has one. She chose a Carousel Horse charm, because she said it reminds her of the Carousel at Port Dalhousie which she used to ride every summer, when we lived in St. Catharines. She said it makes her "think happy thoughts". Her favourite Mindfulness Activities are #1 and #4.
Everyone can benefit from guided focus in their life. Men, women of any age, even children.  Seniors have expressed with warmth a heartfelt thanks to the added joy they receive from having something "so pretty" to help guide their quiet moments of contemplation.
My partner thought he'd never use them, until he saw my Octopus charm and then even he was in on the fun. (I chose that charm to remind me not to take life so seriously all the time; to always leave room for enjoyment.) He carries his in his pocket, and every now and again when he finds himself reaching in for some change, or simply standing with his hands in his pocket while waiting in line somewhere, he'll feel the beads and take pause to run through a Mindfulness activity. He says sometimes he only gets through 3 or 4 beads before he gets to the front of the line, but after he's done with the task at hand, he'll carry on with the next few beads in his mind while he walks to the car.
Sometimes it isn't so much about actually finding the time to do the Mindfulness Activities, as it is about having a reminder in front of you that Mindfulness is an option. That little push that says "Hey, be here, in the moment with me!"
These are great gifts for friends and family, and each strand is packaged with a Mindfulness Activity Suggestion card.
I have made some options for younger children, as well, out of plastic beads, including glow-in-the-dark ones. Another way my daughter uses them is similar to Worry Dolls. She counts down 10 of her worries, choosing worries that fit the size of the beads (big worries for bigger beads, smaller for smaller beads!) After each worry is identified, she states "I can let it go." And then she tucks the beads into the far corner of her pillowcase for safe-keeping while she sleeps. I like these better than the Worry Dolls, because in this use she is taking charge of her own intentions, as opposed to passing them on to an inanimate object and asking it to deal with them for her.
I've gifted them to many family members, and one of them uses it to hang from her rear-view mirror in the car. She commutes a far distance to and from work each day, and she says that sometimes being stuck in stop-and-go traffic, she glances up at her Mindfulness beads and remembers that she can use this down time to work through one of the activities.
As you can see, they work their way into every part of our life, because intention is at the core of all we do.