Mindfulness Beads are contemporary meditation beads.
These one-of-a-kind art pieces are designed to inspire Mindfulness in your current life path.
In the rushed, hectic Western lifestyle, we so rarely take a moment to pause and remember the small things in life. These beads are created to bring focus, either to where we have come from or where we are going.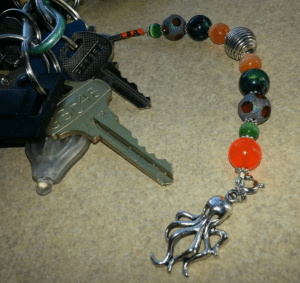 Each strand is crafted with intention, housing 10 main beads. Whether you are counting steps to a particular goal; counting your successes; taking note of 10 grounding objects in your surroundings; doing 10 breathing techniques or simply counting your blessings, this process will bring your body and mind in alignment.
Keep them with you in a pocket, purse, on your key-chain or hanging from your car rear-view mirror. As you look at or touch the beads, take a moment to work through 10 different Mindfulness moments.
Choose a charm that will give you a place to start, a place to rest, or a place to finish. Whatever it is you need to set your mind to, these beads will be a reminder.
Each strand is made up of new, antique or up-cycled beads, of wood, glass, metal and/or semi precious stones.
(Commissioned pieces available, just ask!)
Related posts: